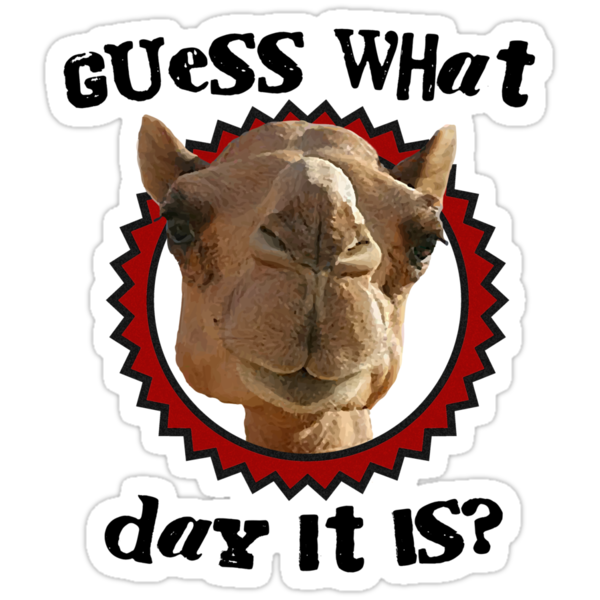 Who hasn't seen that GEICO commercial? The one with Caleb, the Camel. "MikeMikeMikeMikeMike...what day is it?" It's Hump Day!
Hump Day...the middle of the work week. Today, actually. Wednesday. Half the week behind us. Halfway through the week. Halfway done.
I'm in my 50s. I guess you could say I'm halfway through my life. We make "half-hearted" attempts at things we don't really care too much for or about. When someone important dies, we fly our flag at half mast. We have halfway houses for drug rehab. Then, of course, there is the half empty/half full thing. And my favorite---half and half, which is what...half cream and half milk? (Doesn't that actually turn into something whole when mixed???) Halfway implies it's somewhere in the middle.
Halfway...somewhere in the middle...to me, that implies being comfortable, easy. And being in the middle means that it's easy to get distracted and swayed away from what we wholly believe for something easier and more comfortable. Sometimes we do that with God--put Him aside for a more convenient time--and often we do it with ourselves too.
What's your "half"? What do you give only half an effort to that you could be giving your whole effort? What do you halfway believe that should have your full belief? Where do you find yourself "in the middle"?
Maybe you only halfway believe in yourself; maybe you only halfway believe in your dream. You want to do this thing so bad, but you don't think you're good enough. Or you think that your dream, your heart's desire is so silly that it could never come to pass. Maybe someone told you that you could never achieve your goals, that you would never amount to much, that you should not pursue that desire. So you've settled for something easier and more comfortable. Put that dream aside for a more practical way of life--perhaps promising to revisit it at a more convenient time--a time that will probably never come. So that dream sits up on a shelf, halfway between the past and the future, but certainly nowhere near the present.
Maybe, just maybe, you need to get over that hump day/halfway mentality and believe that if God gave you gifts--and He did--He will give you the means to use them. If He believes in you--and He does--it's time for you to believe in you!
Stop believing those should nots, could nots, and would nots. Start hanging around the Cans and the Wills of the world. Dump Negative Nelly and start hanging around with Positive Polly! Find people who believe in you, build you up, and encourage your dream. Get out of your comfort zone! Take a risk and leave "Easy Street" behind.
Who knows...the momentum from coming over the hump just might be what you needed to jump start something new!
This is the day that the Lord has made; let us rejoice and be glad in it! (Psalm 118:24).
Blessings Along the Path,
Mary
Just a little fun for a "halfway" day