I saw a picture in a shop window this morning as I was going to get my coffee. It was more like a sign, but in the form of something you'd hang on your wall, like a picture.
I tried to take a picture, but the shop was closed and there was a terrible glare on the window. Apparently, it is a known print; I found it on Google Images. Just in case you can't read the print, i
t says this:
To my sweet darlings-Do you know how much you are loved? All the way around the world forever and a day. And how do you suppose out of all the little darlings in the world we got the best ones? Be good and take care of each other. We know you will do great things in the world. Yours always, XOXO.
I imagine it is supposed to be from parents to children...it's sort of vague as to who would buy it, and for whom, and where one would hang it. I certainly wouldn't spend money on it. BUT...what struck me was that I read it as if it came from God. Read it again...
God loves us---his little darlings---so much! How much? All the way around the world is pretty far; but more than that, since the earth is round, you could imagine His love as just continuing on and never ending. How long will He love us? Forever and a day...I like that. Forever---well, that's infinity, never ending, eternity. We really cannot fathom that because we don't understand it. We are fixated with time. Humans made clocks so that we could be more precise and not be late for the Caveman's Ball. God didn't invent clocks and time; we did. His love knows no time constraints. And I love that the extra day is thrown in there, just in case we didn't get the whole forever thing. And I pray that you, being rooted and established in love, may have power...to grasp how wide, and how long and wide and high and deep is the love of Christ (Eph 3:17-18)
The best ones? We are all His best ones, individually and collectively. He doesn't have favorites. He considers you His best one and He considers me His best one. Even on our worst days, we are still His best ones! I have loved you with an everlasting love; I have drawn you with unfailing kindness (Jer 31:3)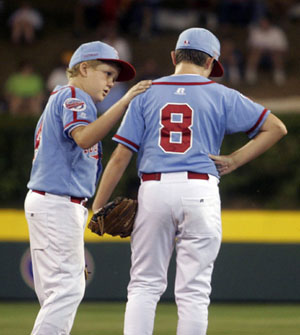 Be good and take care of each other.
I suppose mom and dad would tell their children to take care of their siblings, but on a picture you hang in your living room, it's sort of morbid-it sounds like they're planning to die. Not exactly what you want to give your kids for Christmas. But when it comes from the Triune God-God the Father, God the Son and God the Holy Spirit---it sounds almost like a command!
Therefore, encourage one another and build each other up, just as in fact you are doing (1 Thess 5:11).
We know you will do great things in the world. Of course they do. That's why they put us here--to do great things to glorify the name of God, through the Holy Spirit and in the name of Jesus. Not everyone will be a Billy Graham and minister to the world; but we all minister in our sphere of influence. In Him we were also chosen, having been predestined, according to the plan of Him who works out everything in conformity with the purpose of His will (Eph 1:11).
Finally...the best is at the end...simply this: Yours always XOXO.
For I am convinced that neither death nor life, neither angels nor demons, neither the present nor the future, nor any powers, neither height nor depth, nor anything else in all creation will be able to separate us from the love of God that is in Christ Jesus, our Lord (Rom 8:38-39).
No matter what, He is ours forever. Nothing and no one can take that away from us. He seals it with a kiss and a hug. A kiss from heaven-His Son, Jesus. An embrace from the Holy Spirit that brings us into the Holy of Holies, the Mercy Seat, where He offers forgiveness, mercy and grace--pardon for all our sins. Always. Forever...and a day.
Blessings Along the Path,
Mary
Song of the Day: (Don't pass this by! Halfway through, Beth Moore and Travis Cottrell read scripture that is SO powerful!)
I Am Persuaded (Travis Cottrell)