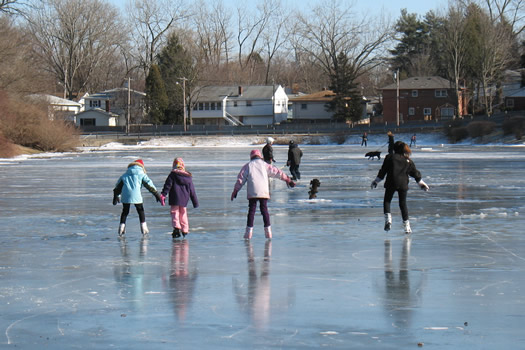 I never see kids skating outside anymore. For that matter, I never see ponds cleared off. The snow just sits there. Long gone are the red and green flags. I pass a pond on my way to work, and there seems to be a permanent metal sign that says, "No skating." When did that happen?
When I was a kid, it seemed like we lived at our local pond for most of the winter. Maybe it was just colder 45 years ago. But even when my children, who are now in their late twenties, were young, I remember taking them skating-outside!
I can remember the sound the ice made when it shifted, or moved or whatever it does. It sounded like it was cracking, and I always got so scared, even though I knew that if someone had ventured out there to clear off the snow, it had to be safe. If the green flag was out, it had to be safe. If the lights were on at night, it had to be safe. If the cabin was open and a fire was going, it had to safe. If lots of other people were skating, and exhibiting no signs of anxiety, it had to be safe.
How do we know we're safe? When we venture into new and unknown territory, it feels scary. Sometimes we have to step out onto the ice, even when we hear it shifting, moving, cracking...whatever it's doing. We look down and see where the ice has cracked underneath the surface and wonder if it will simply break apart and swallow us up. We can clearly see that the ice is thick. It must be safe. But it's still scary.
It's easy to trust when someone in authority says it's safe. If the green flag is flying, if the lights are on, if the snow has been cleared off the ice, if the cabin is open and a fire is going; if there are others skating without any cares.
But that's not always the way.
There aren't always clear red or green flags. There are not always clear signs indicating if the ice is safe. Someone may not have necessarily gone before us to clear the way. We have to simply trust--trust in the Lord, not in ourselves. He who trusts in himself is a fool, but he who walks in wisdom is kept safe (Pr 28:26). If we know the steps we are to take are from Him, we can trust that He will keep us safe while we move forward, even if it's scary.
We may feel afraid, but we need not fear because His Word says, So do not fear, for I am with you; do not be dismayed, for I am your God. I will strengthen you and help you; I will uphold you with my righteous right hand (Is 41:10).
Jesus is our green flag. He has gone before us to clear the way, to shine His light, to open His heart, to start the fire, and to walk in safety where we have yet to walk. Put your trust in Him today, and take a step of faith out onto the ice. He won't let you drown.
Blessings Along the Path,
Mary
Song of the Day
Be Not Afraid (John Michael Talbot)