Every hiker knows that one of the most essential things to have on the trail is water. I find it very easy to go without food, even on a long hike, because I'm moving, I'm exerting myself. And often, I don't really want food, even if I feel slightly hungry. I prefer to eat once I get back to the car.
But water? I need water. I won't go on a trail without it, especially if I have Lucy with me.
This past weekend, we tackled a very strenuous and steep trail with Lucy. We stopped often to hydrate, and each time we did, Lucy stood there panting. She had her own water bottle and may have drunk more water than I did. But some of the water was lost due to negligence. Once, she stepped on the bowl and turned it upside down. Later, I dropped the bottle as I was pouring the water into her bowl.
I watched that water pour out onto the ground, and realized that both Brian's and my containers were also nearly empty. Luckily, we knew we were near the end of the trail. I made a comment after I dropped the bottle, "You know, you never realize how much you need your water until you lose it."
In John 4, when Jesus asked the Samaritan woman at the well for a drink, she reminded him that Jews (Jesus) did not associate with Samaritans (her) and he replied, If you knew the gift of God and who it is that asks you for a drink, you would have asked him and he would have given you living water (v10).
What's this about living water and where can I get it? She basically asked him.
Everyone who drinks this water will be thirsty again, but whoever drinks the water I give him will never thirst. Indeed, the water I give him will become in him a spring of water welling up to eternal life (v13).
Sir, give me this water so that I won't keep getting thirsty and coming back to this well and drawing up the water. I want this living water!
We get thirsty along the trail, especially after something strenuous. We only have so much water. And when we run out, that's it. We hope that we won't get really thirsty and have nothing to sustain us.
But when we have the Living Water with us on the trail, the "well never runs dry" so to speak. He always sustains us. Just like a spring, it's a never-ending supply of fresh water. When the Holy Spirit lives in us, we never thirst.
Sometimes we get sloppy, careless or negligent with our water and lose some in the process. Worse, we may not appreciate the water we have until we're in danger of losing it...or sadly, when it's too late and it's all gone.
We don't always appreciate the wonderful gift of eternal life that we've been given. The wonderful gift of knowing Jesus as our Living Water...Hope Eternal.
Jesus always offers us Living Water. The water that He gives us satisfies our thirst. It wells up inside of us. Never-ending, ever flowing. Fresh spring water that is only accessed through the Holy Spirit-the spring of eternal life.
If anyone is thirsty, let him come to me and drink (John 7:37).
This Living Water is offered to all, even those "Samaritans" who think they are not worthy, who think that God would not want to associate with them. God doesn't want to see anyone lose their water on the trail.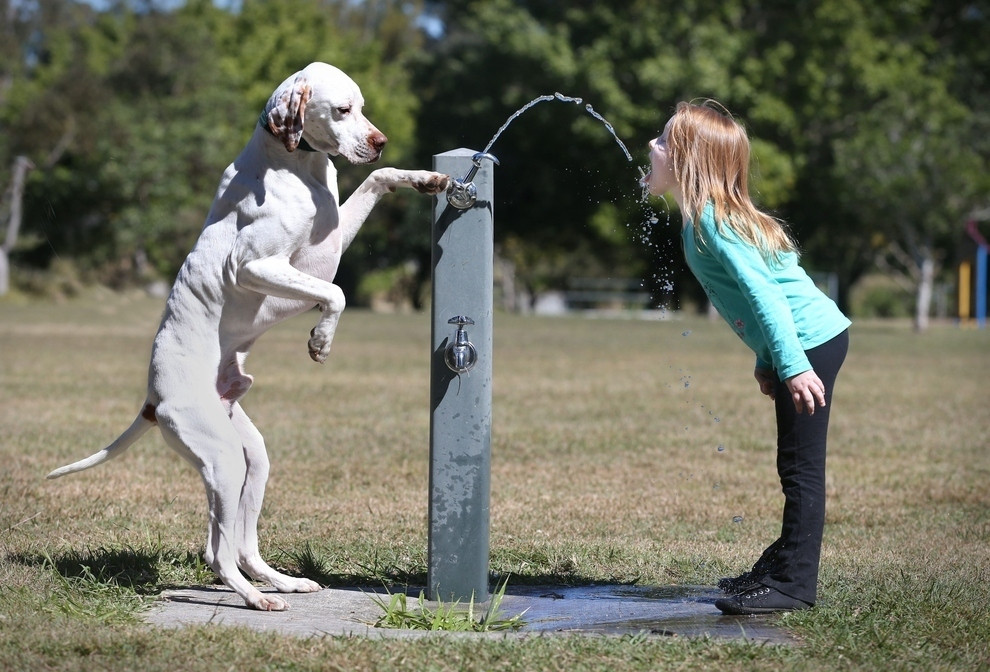 You DO know that "dog" is God spelled backwards, right?
Blessings Along the Path,
Mary
Song of the Day
Streams of Living Water (The Needham Family)