This past weekend, I was attacked by brambles. Briars. Prickers. Whatever. Well, to be fair, I attacked them first. They were only fighting back.
I was sitting in my chair catching my breath, after mowing the lawn and thought, Hmmm...now would be a good time to cut back those berry branches...before they bloom and grow. Being impetuous by nature, I got up and grabbed the snippers, clippers, whatever they're called and went into the battlefield...unprepared. Most people would have probably thought, perhaps I should wear gloves and long sleeves to protect myself. I just went in swinging my weapon like a crazy person.
I really only intended to cut back the overgrown bushes so that I could get between them and the fence to mow the lawn. But as I went, I discovered things, like a beautiful forsythia bush that was being choked by the thorny devils. And lots of dead thorny branches. You know, they still hurt even when they're dead.
Once I got going, I kind of went crazy. Chopped them right down to the ground. The hardest part
was moving the cut branches to the ground. They kept getting stuck-on other branches, as well as on my arms, legs and hat. After awhile, I actually came to expect the thorns and they didn't hurt as much. And I discovered that I could literally crush the lower lying branches under my feet.
As we navigate through life, even through our day, the briars, the barbs, those prickly things attempt to disuade and distract us from our walk with Christ. Satan and his minions like to throw thorny branches our way so that we'll get discouraged and back down. He tries to thwart our plans, causing doubt and fear to well up in us.
Even those things we thought we conquered-those dead branches...they still need to be chopped down and uprooted. But they're deceiving because sometimes when we grab hold of those dead branches, we don't realize that they still have the capacity to wound. The thorns are still there.
Sometimes we get so used to the battle, so immune to the thorns that we come to expect it. It no longer hurts us because we have become used to the pain. The battle continues on. We can swing our arms and our clippers like a crazy person, continuing to get beaten up by the briars (like I did), or we can remove ourselves from the situation, go back for protection and come back to the briars fully armed...with the sword of the spirit, which is the Word of God (Eph 6:17)
We have been given the power to crush those briars under our feet.
I have given you authority to trample on snakes
and scorpions and to overcome all the power of the enemy; nothing will harm you (Luke 10:19).
For the God of peace will soon crush satan under your feet (Rom 16:20). And in so doing, He will uncover the beauty behind the thorns-that beautiful forsythia bush that's being choked by the briars. The beautiful you that the world needs to see.
Are you living like this...in defeat?
The enemy pursues me; he crushes me to the ground, he makes me dwell in darkness like those long dead. So my spirit grows faint within me; my heart within me is dismayed (Ps 143:3-4).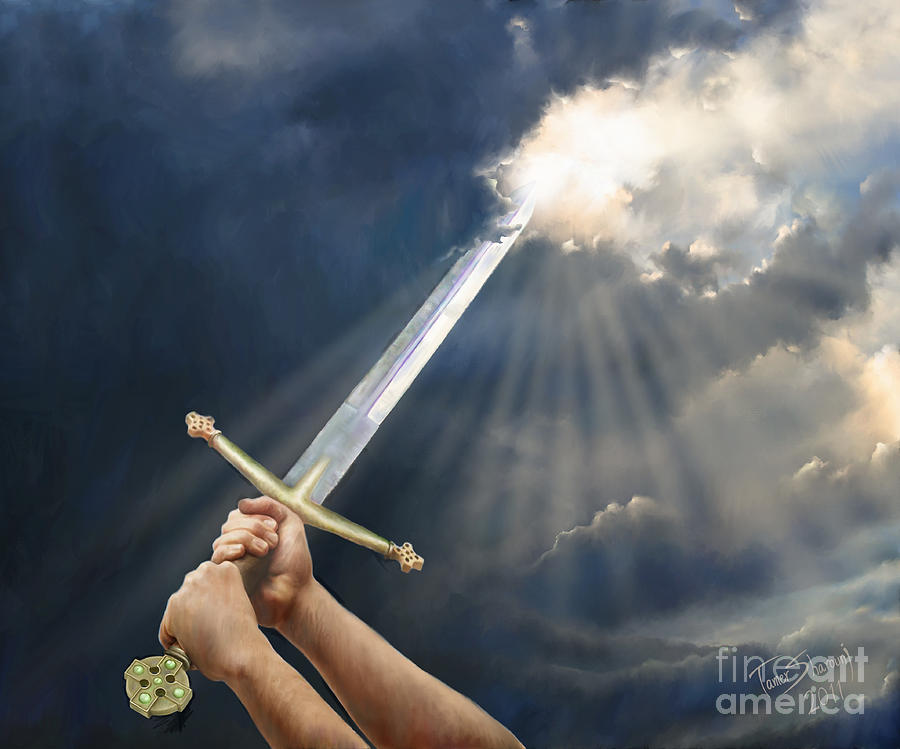 Don't stay there! Don't wallow in self-pity! Take out your sword and fight!
No, in all these things we are more than conquerors through Him who loved us. For I am convinced that neither death nor life, neither angels nor demons, neither the present nor the future, nor any powers, neither height nor depth, nor anything else in all creation will be able to separate us from the love of God that is in Christ Jesus our Lord.
Don't go into the battlefield unprepared and unprotected!
Now, my only problem is this: Who is going to clean up all those thorny branches I left on the ground? Ouch!
Blessings Along the Path,
Mary
Song of the Day
I Have to Believe (Rita Springer)
In your unfailing love, silence my enemies; destroy all my foes, for I am your servant.