What is it about kids and the beach? Why are children so enthralled with digging in the sand? And why do they love to be buried in it? In fact, I've seen adults being buried in the sand, and they seem to love it too! There's something oddly comforting about being buried in the sand. Maybe it's because we know we can easily escape.
I watched a family this weekend bury their son in the sand. His head was sticking out of this big pile. He was buried up to his neck, and he seemed very serious about the whole thing. When the mission was completed, they all sort of just sat there and stared at him, smiling. His older sister kept going over to him and kissing him (maybe she was taking advantage of his helpless situation), and his mother was taking pictures.
Suddenly, the boy shook his head and started wiggling his body beneath the sand. First his neck moved, then his shoulders broke free. Once his arms were free, he gave a violent thrust to the remaining sand and freed himself completely, while his family cheered him on.
I looked away for a moment and the next thing I knew, the boy was running toward the ocean,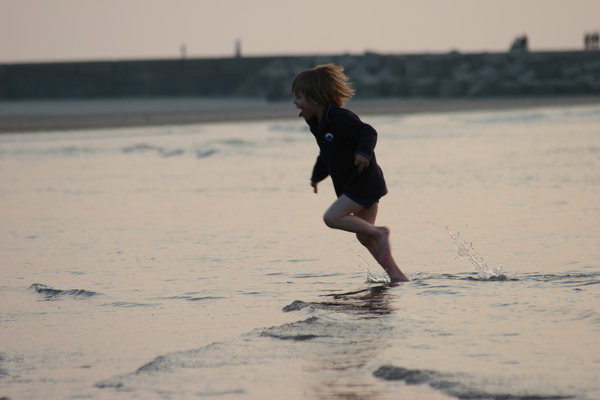 laughing.
Similarly, when we are buried in sin, stuck in addiction, or paralyzed from fear, insecurity, false guilt or shame, it's oddly comforting. At times, we may feel immobilized or trapped in our sand grave, but the weight of that which keeps us bound is familiar, which is...oddly comforting. Friends and family will come to us and give us kisses. They may laugh at our silliness, even when we are being very serious. Sometimes, they will just awkwardly sit there and stare at us, as if to say, "Okay, now what?"
It is only through the power of God, through the blood of Jesus can we break free from that which hinders us and keeps us bound. It is the blood of Jesus that sets us free. To Him who loves us and has freed us by His blood (Rev 1:5). When we realize that, when we cry out to Him who loves us and sacrificed Himself so that we would be free from the bondage of sin and death, it's like we wake up! We shake our head, wiggle our neck, and force our shoulders out from the sin that weighed us down. We violently thrust our torso out from under the bondage of addiction. We break free from the guilt, the shame, the insecurity, the fear. In the twinkling of an eye, we are free!
We
throw off everything that hinders and the sin that so easily entangles. And we run with perseverance the race marked out for us,
fixing our eyes on Jesus, the pioneer and perfecter of faith (Heb 12:1-2, paraphrased).
Once we experience freedom from the bondage we have been trapped in for years, there is nothing like it. We run with abandon, like that little boy, laughing. Our legs, which were buried in fear, now carry us to new and exciting places. We run toward the water, the River of Life, to be baptized and immersed in new love, new life, new experiences. Freedom tastes a little like chocolate---once you taste it, you just want more!
The next time you feel trapped in a situation, paralyzed by fear, or just burdened by the weight of life, remember that it's only a sand grave---oddly comforting, but easy to escape from. Don't let the devil keep you there. Cry out to Jesus and He will give you the strength to break free from the sand and give you new legs to run to the Waters of Freedom!
Blessings Along the Path of Freedom,