Lucy (by the chair)
and Chinook (in foreground)
The other day, I had two dogs in the office with me: Chinook, my son's dog, who comes to the office several times a week, and my dog, Lucy. They were going to the groomer, so Lucy got to come to work with Mom.
Chinook tends to follow me around and sit right where I end up, usually right smack up against the chair. But Lucy doesn't seem to like that Chinook tries to get so close to me because I'm her mom, not his. So there was this surreptitious jockeying for position all day. Neither dog is aggressive (been there/done that/Psycho Dog now living elsewhere), so it was very subtle. But I noticed.
There was a very pushy mother in the bible, the mother of the sons of Zebedee (she may have been pushy, but she apparently didn't rank high enough to have a name--but I believe her name was Salome). She came to Jesus and asked if He would give her two sons the honor of sitting on either side of Him when He ruled His kingdom. He asked them if they were prepared to suffer as He was about to suffer and they said, "Oh, yes, yes, yes!" and then He told them that it was not his place to give that honor, but His Father's. Only God could choose who would sit at those places.
Now, these "sons of Zebedee" were actually James and John, disciples of Jesus. Their mother wanted them to be the favorites and Jesus said no. It's not for me to decide.
Then the other 10 disciples got mad, and with good reason. No one likes to be in a group where favoritism abounds. But even after he said no, they still became indignant. And there was, of course, a lesson from Jesus....You want to be like me? Well, guess what? I came to give my life for you. Are you prepared to do that for your brothers? I didn't come to be served, but to serve. Are you willing to do that? (Matt 20:20-28 paraphrased).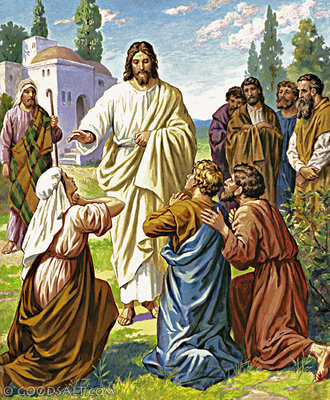 He was so gracious about it all. I probably would have lost it and yelled, "Everyone just stop it! You guys...did you not hear what I just said?

Behold, we are going up to Jerusalem; and the Son of Man will be delivered to the chief priests and scribes, and they will condemn Him to death,

and will hand Him over to the Gentiles to mock and scourge and crucify

Him,

and on the third day He will be raised up (Matt 20:18-19). Hello??? That's Me I'm talking about here! You're fighting over position, and I'm about to be killed! Thanks for having my back. Just throw me under the chariot!"
Instead, He thought about what they could learn from this and taught them a lesson in humility.
While we all would do well to remember that whoever wishes to be first shall be your slave, we would do equally well to remember that there is no favoritism in God's kingdom. God doesn't love someone who you may think is more "spiritual" than you more than He loves you. He doesn't have a caste system. Contrary to popular opinion and many religious teachings, you cannot earn your way into His good graces, into heaven. Jesus said it Himself. The Son of Man did not come to be served, but to serve and to give His life as a ransom for many.
Isn't it wonderful that dogs think we are so wonderful? What Lucy doesn't know is that I am far from Jesus, and I do have favorites. I love Chinook, but Lucy is my dog. I love her best. Just don't tell Chinook.
Blessings Along the Path,
Mary
Song of the Day
I'd Choose You (Sara Bareilles)