The other day I passed a parked police car in Mendham. You need to be very careful in Mendham. The cops there must be bored because they are famous for pulling people over for traffic infractions.
I checked my speed
...I was okay. Remember, I'm the rule follower? Well, every now and then, I go over the speed limit...ok, maybe a lot of now and then. I looked in my rearview mirror and there he was, pulling out behind me! I panicked! I drove very carefully, just under the speed limit, but he was fast approaching. My heart was thumping. Oh, I hope he doesn't pull me over, I thought!
He turned off into a side street. It wasn't about me at all.
I found it interesting that I was so nervous even though I knew I'd done nothing worthy of being pulled over. It was simply being in his "presence"...having him behind me,watching me. It was more of a respect for his authority than fear of him.
That's what the fear of God is like. God doesn't want us to be afraid of Him, but think about it...He created the universe. And in the blink of an eye, He can decimate it. We ought to have a respect for His authority, a reverence for the One who can give and take away. The One who thought creation into existence. The One who breathed life into each of us and formed each one of us with a unique fingerprint. We ought to revere that God. Respect Him.
I recently heard a song in which the words said basically "I'm not afraid to be in your presence." I thought about that. Maybe the singer didn't mean it the way I took it, but I think if God appeared before me, I'd be just a tad afraid. I think I should be. I don't ever want to reduce God to less than that.
On the other hand, we should not live "in fear" of God; in fear of being caught in bad behavior.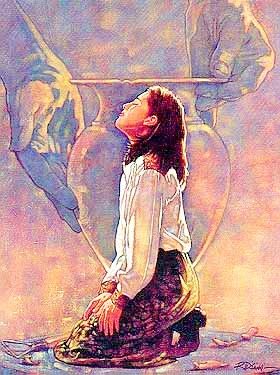 All have sinned and fall short of the glory of God (Rom 3:23).
HOWEVER...we
have been told that we can come freely to the "Mercy Seat," the place of forgiveness.
Let us therefore come boldly to the throne of grace, that we may obtain mercy and find grace to help in time of need (Heb 4:16).
We can do this because the verse before that tells us that
we do not have a high priest who cannot sympathize with our weaknesses, but was in all points, tempted, as we are, yet without sin (v15).
Being a follower of Jesus allows us access to the Father. We need not be afraid. We are to come boldly, freely, without reservation; knowing that He will not judge us according to what we deserve, but He will immediately and completely forgive us and
remember our sins no more (Heb 10:17).
It's a healthy fear. A respectful fear. A reverent fear. But that kind of fear can only come because we know we are deeply, wonderfully and unconditionally loved by that same Awesome God.
I doubt that police officer would have offered me that unconditional love if he had pulled me over.
Blessings Along the Path,
Mary
Songs of the Day
Come Boldly to the Throne of Grace (Jared Jensen)
Mercy Seat (Vicki Yohe)
In the Presence of Jehovah (Brooklyn Tabernacle Choir)